Saturday, November 14, 2009
THE RAT AHEAD OF THE CURVE AGAIN
Way back in May, here is what the boys at
The Rat had to say about amateur porn star Carrie Prejean:
No one is attacking Christianity, what we are discussing is your phoniness. Your running talking about being a role model and spreading your anti-gay bigotry. Then we find out you taken nude pics and God only knows what else. As everyone knows, most if not all people in the porn industry started out doing nude photos. I'm not saying she did.

But dont be shocked if a sex tape pops up gang.
Well lo and behold several months later
we were proven RIGHT.
And now we hear that Ms. Prejean
made more then the one
she claimed she made as a dumb 17yo kid.
Again folks The boys love our sleaze. We're not questioning her right to pose nude or make sex tapes. We feel there a few drunken nights of sex, lies and videotape in everyone's lives. Hell, we encourage her to do more. Its her hypocrisy we cant stand.
Posted at 11/14/2009 5:46:30 am by SpannerJaxs
Permalink
Wednesday, November 04, 2009
ATTENTION BIGOTS, SAME SEX MARRIAGE IS COMING
Last night was yet another win for the forces of evil.
In Maine, the old busted and tired haters of humanity won yet another battle in the war for equality. By using tactics of fear (THEY WANT TO TEACH HOMOSEXUALITY TO OUR CHILDREN!!!) and smear, they were able to punk many good people into voting against equality.
The Bigots will claim its about their "religious" convictions. But in the end it was about hate. They hate the gay community and they wanted to impose their will on the gay community. It is something I feel they enjoy.
The bigots act that being gay is a choice. It is not. Being gays is a sexual orientation that they cannot change just as you cannot change your skin color. They will claim that their "faith" teaches them to "Hate the sin but love the sinner" but how can you hate a "sinner" who was born that way?
The Gay community does not choose their orientation. Its is how they are born. And those of us who cant accept it are just as bigoted as those who thought the black community was less then human. In fact the homophobe is spiritual kindred to the racists.
Being gay is no more an "abomination" as being black, white, Hispanic or Asian.
These words may sound harsh, but what do you call it when you hate some one cause of they way they were born? They cannot change who they are. They cannot change who they fall in love with. Yet the bigots hate them for that very reason.
The bigots like to throw their faith out there as if it is a justifiable defense for bigotry. It is not. The Bible, "the word of God", also sanctions slavery, and many of those who opposed interracial marriage used that same religious defense. A defense we now know is insane and backwards. God, no matter what how you interpret his book, does not hate what he created. Faith is no longer a justifiable defense for hate.
Misinterpreting a book that sanctions slavery and dancing with snakes doesn't work anymore.
But understand that same old logic and playbook time is coming to an end.
And just like those who opposed civil rights, who opposed Woman's rights, who opposed every single just issue, will be defeated.
Same Sex marriage is coming. Get used to it.
Last night vote totals from those who attended the University or Maine was
81% NO 19% Yes,
That means 81% of the students supported Same sex Marriage.
That my bigoted friends is the FUTURE.
My daughter's generation, my niece and nephew's generation are going to see to that Same Sex marriage day will arrive.


To paraphrase a young man on Twitter:

"Old people you you will die soon and we legalize gay marriage"

And if you doubt his words, think about this: 40 years ago Robert F Kennedy predicted that we will have a Black President. This was during the height of the civil rights movement when many Americans felt that black people where inferior. 40 years later, in fact a year ago tonight. Our nation did just that.

Same Sex Marriage is coming and the only sin is having to tell our gay brothers and sister to be patient.

My hope is when that day does arrive the bigots of today get to see it, and hurts them just as badly as it is hurting the gay community now.

Its coming. And there isn't a damn thing anyone can do to stop it.
Posted at 11/4/2009 7:31:49 pm by SpannerJaxs
Permalink
Sunday, September 27, 2009
In
Twitterland
there is a trend called
#foxionary
,
where they have compiled a handy dandy list of words to describe FOX NEWS and the morons who are their viewers. Enjoy!
EXFOXIATE
(v) To scrape away dead brain cells after any exposure to a Fox News broadcast.
FOXHOLE
(n) A person who retweets or otherwise echos Fox News misinformation
FOXATION
(n) : Fact-free claim or assertion , packaged for populist consumption, and obsessively repeated on Fox News
FOX FACT
(n) A passing resemblance to truth, which on further inspection proves to be indescribably stupid bullshit.
FOXHUNT
(n) A search for female Fox News Channel anchors with good nails, hair, and a GED in journalism
FOX TART
(n) Journalism school graduate, hired by Fox News to wear tight sweaters and read lies from a teleprompter.
FOXATAWNY PHIL
A gopher who emerges each winter to predict whether

@

knows his ass from a hole in the ground.
ASFOXIATION
(n) Oxygen deprivation related brain disorder linked to mouth breathing in fox news viewers.
FOXISM
(n) Religion requiring believers to surrender critical thinking so they may be more easily lied to by Fox News
If you cats come up with any more send them to
The Rat
or post on
#Foxionary
we'll keep on adding to the list and of course link it back to you for credit!
Shout out to
Shoq Value
who came up (or found) with most of these. He's a MUST FOLLOW on Twitter!
Posted at 9/27/2009 10:28:04 am by SpannerJaxs
Permalink
Saturday, September 26, 2009
ANOTHER POSSIBLE VICTIM OF WINGNUT VIOLENCE
Sad story out of Kentucky
:
BIG CREEK, Ky. — A part-time census worker found hanging in a rural Kentucky cemetery was naked, gagged and had his hands and feet bound with duct tape, said an Ohio man who discovered the body two weeks ago.
The word "fed" was written in felt-tip pen on 51-year-old Bill Sparkman's chest, but authorities have released very few other details in the case, such as whether they think it was an accident, suicide or homicide.
The man who discovered the body
says that it was homicide:
Jerry Weaver of Fairfield, Ohio, told The Associated Press on Friday that he was certain from the gruesome scene that someone killed Sparkman.
''He was murdered,'' Weaver said. ''There's no doubt.''
Weaver said he was in the rural Kentucky county for a family reunion and was visiting some family graves at the cemetery on Sept. 12 along with his wife and daughter when they saw the body.
''The only thing he had on was a pair of socks,'' Weaver said. ''And they had duct-taped his hands, his wrists. He had duct tape over his eyes, and they gagged him with a red rag or something.''
So far it early in the investigation but this appears to be another case of wingnut violence, like the murder of
Dr. George Tiller
and the
murder of Greg McKendry
at the Unitarian Universalist Church in Knoxville Tennessee.
A recent meme by the wingnut community was their smear job of Census workers, in fact Wingnut extraordinaire
Michelle Bachmann had this to say
:
The mother lode of all data information will be from the Census. … Unfortunately, the Census data has become very intricate, very personal, a lot of the questions that are asked.
I know for my family, the only question we will be answering is how many people are in our home. We won't be answering any information beyond that
, because the Constitution doesn't require any information beyond that.
By the way we encourage all wingnuts especially those in Red States to follow Ms. Bachmann's lead and NOT fill out their census forms. Please.
We dont know, yet if this latest killing is wingnut related but it is this is a sad commentary on the wingnut community and their leaders in
rightwing media.
Posted at 9/26/2009 11:34:26 am by SpannerJaxs
Permalink
Sunday, September 20, 2009
WINGNUTS DREAM TICKET: BACHMANN-PREJEAN 2012
At last year bitter fest known as the "Values" Voters summit they had Newt Gingirch as their keynote speaking. A raging asshole but a smart devious man we will admit.
This year they decided to take it to a new level and have Carrie "topless model" Prejean as their keynote speaker..Speaking about, I shit you not, intolerance:
Why is it that for winger "tolerance" is allowing them to do, say what they want and for the rest of us to accept it? Like they want us to accept their bigotry to the gay community. Memo to wingnut bigots: acceptance of bigotry is NOT an option.
They would probably have wanted America to accept their intolerance during the Civil Rights movement. Claiming "states rights", "Federalism" or whatever code they use for hate back then. Wingnuts, what is it about them that they harbor so much hate for so many of their fellow Americans who dont look, act or worship like them?
FYI we do tolerate wingers backwards ass views. We tolerate their right to worship or send their kids to any wingnutty private school they want to pump whatever backwards ass shit they want to teach their kids. What we wont tolerate is using taxpayers money to proselytize in PUBLIC SCHOOLS.
We tolerate the wingers right to marry any one of the opposite sex they are in love with, what we wont tolerate is their desire to DENY that same right to those who are of the same sex.
We tolerate wingers right to say whatever the hell they want, what we wont tolerate is their demand that we accept what they say silently. Free speech as Ms. Prejean found out the hard way, goes both ways asshole.
We tolerate you wingers, more then you know.
Posted at 9/20/2009 9:03:18 am by SpannerJaxs
Permalink
Thursday, September 17, 2009
OFFICIAL PIC OF 9/12 TEA PARTY
The boys at The Rat want to offer our most sincere apologies to all those who attended last Saturday's 9/12 Teaparty protest. We mocked and ridiculed the size of the crowd but after receiving the Official verified pic of the crowd we admit we made a mistake. We are truly sorry. You did have a sizable amount. Our bad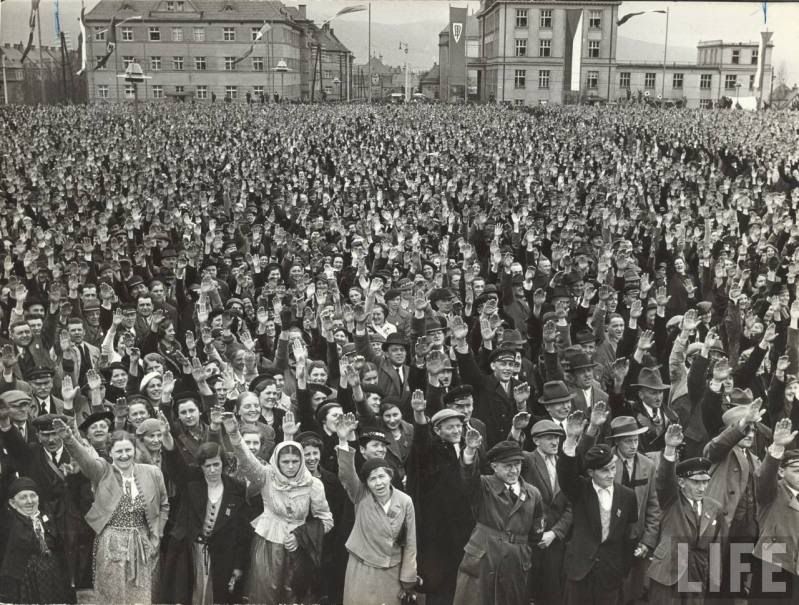 Posted at 9/17/2009 12:26:11 am by SpannerJaxs
Permalink
Tuesday, September 15, 2009
So good to see Jon Stewart back after a 3 week vacation. It appears that when his show goes on hiatus the crazy feel its their time to take their insanity to a new level. Jon's back. Wingnuts beware
Posted at 9/15/2009 7:18:41 pm by SpannerJaxs
Permalink
Sunday, September 13, 2009
Despite what many in Moron Nation would have you believe.
The 8 years of the cult leader where are bad as we thought:
Thursday's annual Census Bureau report on income, poverty and access to health care-the Bureau's principal report card on the well-being of average Americans-closes the books on the economic record of George W. Bush.
It's not a record many Republicans are likely to point to with pride.
On every major measurement, the Census Bureau report shows that the country lost ground during Bush's two terms. While Bush was in office, the median household income declined, poverty increased, childhood poverty increased even more, and the number of Americans without health insurance spiked. By contrast, the country's condition improved on each of those measures during Bill Clinton's two terms, often substantially.
The Census' final report card on Bush's record presents an intriguing backdrop to today's economic debate. Bush built his economic strategy around tax cuts, passing large reductions both in 2001 and 2003. Congressional Republicans are insisting that a similar agenda focused on tax cuts offers better prospects of reviving the economy than President Obama's combination of some tax cuts with heavy government spending. But the bleak economic results from Bush's two terms, tarnish, to put it mildly, the idea that tax cuts represent an economic silver bullet
.
I mean this really does put the kibash on Moron Nations whinging about Obama's fiscal policies. Bush fucked this nation worse then any other President in recent memory. and to hear winger scream about smaller Govt when their Hero for the last 8 years was driving us to ruin is a joke. Winger would get more respect from those of us in sane America if they had the same outrage they have towards Obama for Bush. I could take and respect them more seriously if they spoke out. But they didnt. They silently approved and signed the checks he was doling out like candy. Now they have the stones t o say they are worried about bigger Govt?? Get the fuck out of hear with that bull shit.
Posted at 9/13/2009 7:57:29 pm by SpannerJaxs
Permalink
Saturday, September 12, 2009
Wingnuts displayed for America in all their glory what they are really about. The signs are indicative of wingnuts intelligence and values they were raised with. Enjoy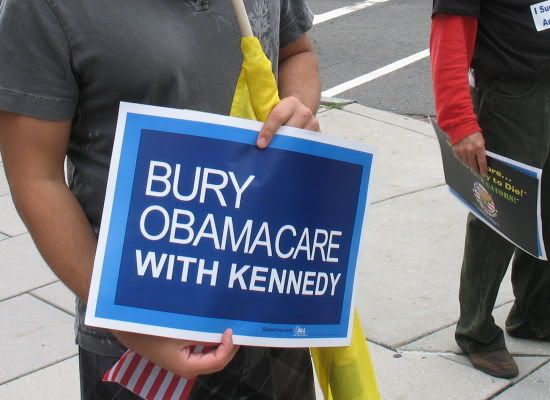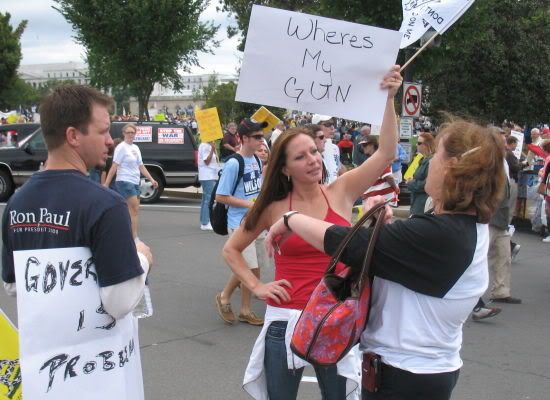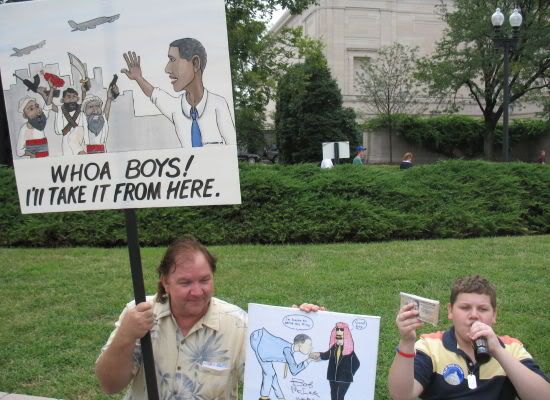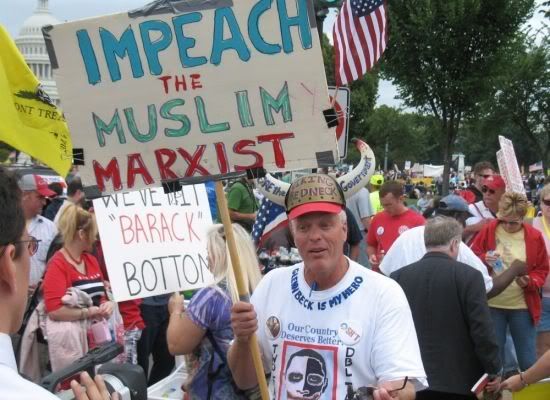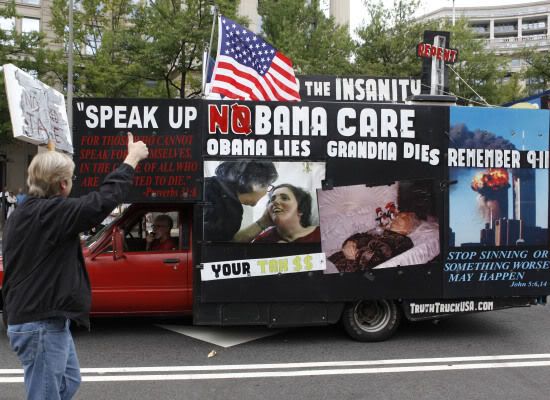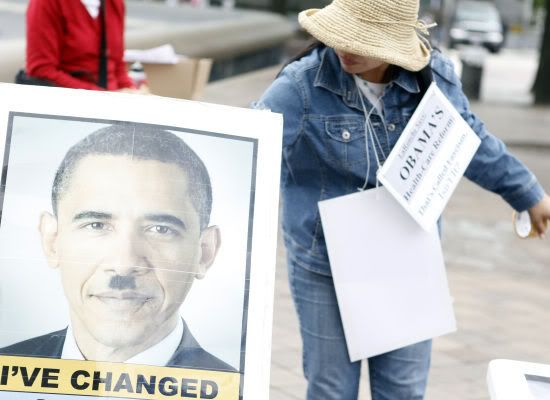 God Bless America.
Posted at 9/12/2009 6:21:16 pm by SpannerJaxs
Permalink
Tuesday, September 08, 2009
Here are a few Bible verses for our conservative brothers and sisters:

Mat 10:8 Heal the sick, bring the dead back 2 life, heal those who suffer from dreaded skin diseases, & drive out demons.

Luk 12:33 Sell all your belongings and give the money to the poor.

Luk 6:20 Jesus looked at his disciples and said, "Happy are you poor; the Kingdom of God is yours!

Mic 6:12 Your rich people exploit the poor, and all of you are liars.

Eze 22:29 The wealthy cheat and rob. They mistreat the poor and take advantage of foreigners

Isa 32:7 A stupid person is evil & does evil things; he plots 2 ruin the poor w/ lies & 2 keep them from getting their rights

Isa 3:15 You have no right to crush my people and take advantage of the poor. I, the Sovereign LORD Almighty, have spoken.

Pro 30:14 There are people who take cruel advantage of the poor and needy; that is the way they make their living.

Pro 28:27 Give to the poor and you will never be in need. If you close your eyes to the poor, many people will curse you.

Pro 22:9 Be generous and share your food with the poor. You will be blessed for it.

Pro 19:17 When you give to the poor, it is like lending to the LORD, and the LORD will pay you back.

Pro 14:21 If you want to be happy, be kind to the poor; it is a sin to despise anyone.

Psa 140:12 LORD, I know that you defend the cause of the poor and the rights of the needy.

Psa 41:1 Happy are those who are concerned for the poor; the LORD will help them when they are in trouble.

Psa 9:18 The needy will not always be neglected; the hope of the poor will not be crushed forever.

Exo 23:6 "Do not deny justice to a poor person when he appears in court

Exo 22:25 "If you lend money to any of my people who are poor, do not act like a moneylender and require him to pay interest

We so enjoy using thegood book to blow the living shit out of wingnuts morality.


Posted at 9/8/2009 7:25:54 pm by SpannerJaxs
Permalink